SpellBEE
Testing the Teachers Dilemma
(2000-2008)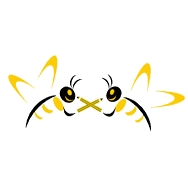 As part of my dissertation research, I explored the viability of supporting peer-to-peer learning as games. The idea was to develop two-person games in which each player would select or design problems for the other player to solve. If the game was structured as a purely competitive activity, students would have motivation to stump each other. If the game was structured as a purely cooperative activity, they would have motivation to offer easy questions that the other would likely answer correctly. A better game structure wouldn't be strictly competitive or cooperative, but rather would be something different. Vygotsky's Zone of Proximal Development suggests a path forward: Create a game in which each player is motivated to find and challenge the limits of what the other player is currently capable of. The Teacher's Dilemma was the model we used to describe the category of games with this property.
In software simulations, populations of rational agents playing iterated Teacher's Dilemma games did converge on the desired ZPD-finding strategies. But just because something works in theory doesn't mean that it will work in practice. To what extent does a rational agent in a game-theoretic simulation represent the strategies used by a third-grade student playing a game online with another student? Part of the goal of SpellBEE was to find out. Would the structure of the Teacher's Dilemma games have any impact on the choice of challenges that students present to one another? Rather than arranging for a series of small classroom studies in a local school, we opted to put the experiment online, and open it up to any teachers that wanted to participate. Between 2001-2008, thousands of elementary school teachers and tens of thousands of their students participated. Lo and behold, the strategies that the students adopted did indicate that, for the most part, the students were attempting to identify what their peers were capable of and chose problems to pose that were "in the zone."
---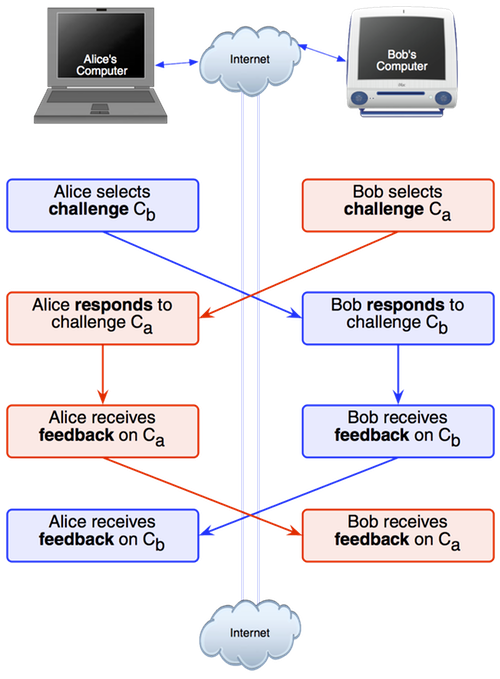 SpellBEE was a symmetric turn-taking game, in which each turn consisted of: (1) both partners selected a problem for the other to solve, (2) each attempted to solve the problem posed to them, (3) each got feedback on their own solution, (4) each got feedback on how their partner did on the challenge posed. Each game was ten turns long.
---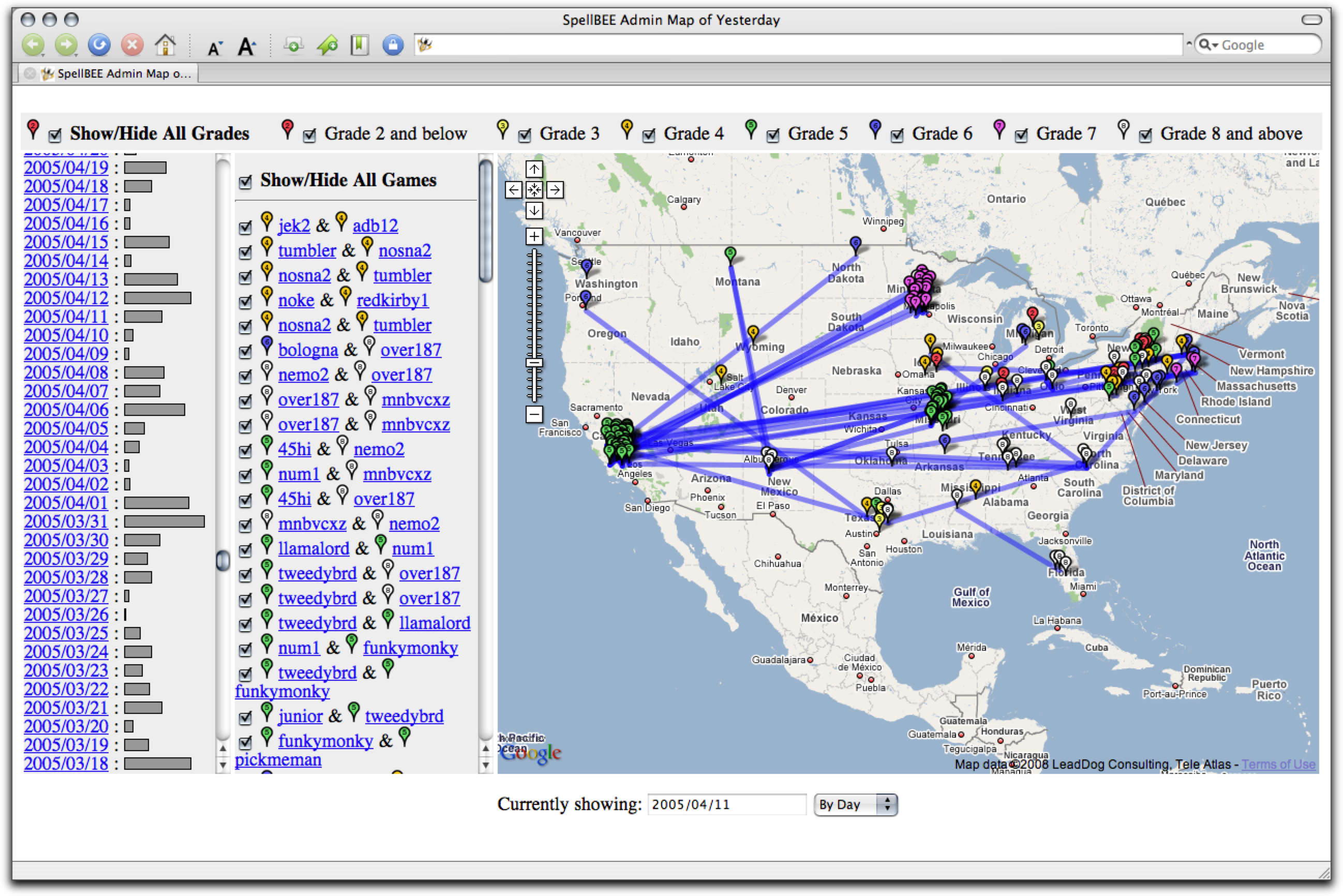 While many teachers had their students play each other, many of the two-player games involved students who were thousands of miles away from another. Here's a picture of one day in 2005. The lines connect pairs of students who played games together. While the scale isn't particularly impressive from the perspective of web-based games today, I think it was pretty remarkable for an educational research experiment ten years ago.