The water bottle is the Altoids tin of bicycling hacks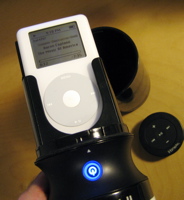 Several months ago, I wrote about the iHome iH85b (aka the "cycler", the "Bike to Beach Bicycle Speaker for iPod", or the "iHome2go".) I continue to use this speaker during my commutes, and still highly recommend it. But that's besides the point.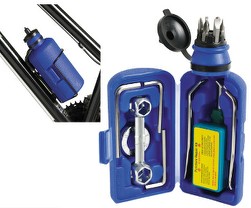 There are only three spots (that I can think of) to reliably mount a peripheral onto a bicycle: on the handlebar, on the rear rack, or in a water bottle cage. The front bar is a good spot for smaller trinkets that require attention, such as lights, bells, and electronics. The rear rack is a good spot for mounting assorted cargo, either in a milk crate, kitty litter buckets, or in plain old panniers. The water bottle cage, with one exception, is really only good for carrying one thing: a water bottle. The exception? When you bike sports a second cage.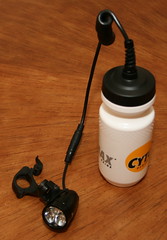 A second water bottle cage opens up a slew of new possibilities. The iPod speaker is but only one option. There are all sorts of other creative uses for this space, ranging from home-brew lighting upgrades to a repair kit to the "Gadget Bottle" to other fully patented inventions. Know of others? Leave a comment.
What I like about these various designs is the creative use of the fixed space. iHome cheated a bit by shipping a larger-sized cage with their speaker, but in general, the size is a hard constraint. This reminds me of the large number of creative uses of Altoids tins in electronics projects, ranging from the MintyBoost to hundreds of Altoids tin projects posted on Instructables.
So what's the right bottle to house your next DIY bike project? After some quick browsing on Amazon, my best find is this one
from 3dRose LLC.
Related Post: My review of the iHome iH85b iPod Speaker.
---
Comments