Assorted links for the multi-modal commuter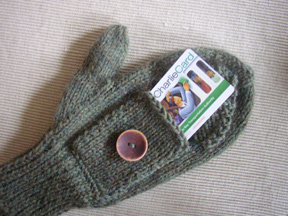 For those that missed it last year, a very crafty idea emerged from the MBTA's Orange Line: the CharlieCard Mitten. Colleen Meagher's idea was to sew a pocket on a mitten, sized to hold one of Boston's new transit smart card. Clever.
For the bicycle commuter who owns (and occasionally drives) a car: Looks like there will soon be an option for pay-as-you-go car insurance. Milemeter appears to still be a few months from opening up shop, but the description posted on O'Reilly Radar makes it sound very promising. Worth keeping an eye on.
Another option for part-time drivers is to have a membership in a car-sharing program like Zipcar. I found this to be a great first step after getting rid of my own car a few years ago. I'd love to seem them provide a few more steps for recovering car owners. Perhaps by adding some utility bicycles, folding bicycles, and electric bicycles to their neighborhood-wide sprinkling of vehicles?
REI.com is now selling a Dahon folding bicycle, branded as the Novara Buzz Fly-By. While it's missing several commuter-friendly features that some other Dahon models offer (e.g. chain guard, rear rack, hub dynamo-powered lights), REI does provide an unbeatable guarantee on everything they sell. It worth a trip to one of their quarterly Garage Sales to fully appreciate this.
Finally, for those of you wondering if you should keep waiting for the bus or give up and start walking, a recent paper might provide some direction. Longer answer: Read the full paper. Shorter answer: Stay put.
---
Comments