Calbright College
(2019-now)
Fast, focused, flexible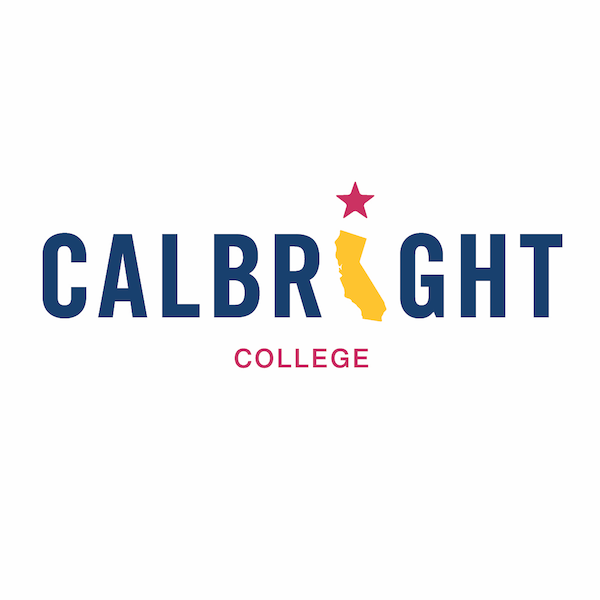 I serve as the Chief Technology Officer for Calbright College, California's online community college, designed specifically to meet the needs of working adults.
"Calbright College is committed to increase economic mobility and close equity gaps for working adults who lack easy access to traditional forms of higher education. Calbright is designed to offer online, flexible, affordable skills-based programs that provide tangible economic value for both working adults and hiring managers."
Origin
In June of 2018, legislation was signed and passed into law by then-Governor Jerry Brown, and the College was founded. The California Online Community College Act, codified as California Education Code §75000-75012 (PDF), details key aspects of the design of the college. In June of 2019, the college was named Calbright College, and in October of 2019, the college welcomed its first students.
Milestones
The enabling statute includes a schedule of milestones that the college is expected to achieve. The college publishes annual reports summarizing progress and status updates with respect to these milestones, such as the 2020 Milestone Report (PDF).
Past Projects
Team building - Built a talented and committed remote-first team responsible for engineering, automation/integration, early product development, product management, systems, security, end-user support, UX design, data analysis, and external reporting.
Hiring - Chaired or served on 20+ hiring committees.
MVP - Implemented the initial version of Calbright's end-to-end student experience, leveraging no-code and low-code tools and integrations.
CRM - RFP, Salesforce implementation, and continued iteration.
LMS - Adopted the Strut learning platform, designed specifically for Competency Based Education.
ERP & SIS - Extensive RFP process culminating in selection of Anthology (currently in implementation).
Automation - Invested heavily in automation and cross-platform integration from Day 1.
A/B testing - Built a cross-platform A/B testing infrastructure, and used it to run and evaluate randomized controlled experiments with respect to student outcome metrics.
CCCApply Memo - Researched, drafted, and advocated for a set of data-informed recommendations for improvements to the shared technology infrastructure relied upon by 116 California Community Colleges. (see below)
Current Work
Student Experience - Revisiting all aspects of the end-to-end student experience
Integrated Student Support Model - Implementing a plan for integrated student support through Salesforce-based workflows, automations, and visualizations.
Accreditation - Preparing systems, processes, documentation, metrics, and reporting in support of the accreditation process.
Anthology implementation - Implementing Anthology (formerly Campus Management) ERP and SIS.
Supporting Future Programs - Vetting, adopting, and integrating new technologies needed for new program pathways in 2021 and beyond.
Digital badges - Creating a system of microcredentials to support skill-grained recognition of mastery from Calbright to other colleges.
Automation and integration - Integrating and automating the wide large variety of technologies underlying Calbright programs in order to avoid exposing this complexity in the student-facing experience.
Pace and Progress - Understanding pace and progress is a non-trivial problem in flexibly-paced programs, but is critical to tracking progress, timing student support, and setting expectations around timelines. Data analysis and data visualization offer a path forward.
CCCApply Memo
In addition to operationally standing up the new college, Calbright has asked to contribute findings of value back to the other 115 colleges in the California Community Colleges system. Towards this end, I recently led an effort to document and share our experiences with the centralized college application system used by all colleges in the system. In this work, I highlight the key issues that affect the prospective students and the colleges using these systems, and I make concrete, actionable recommendations for changes that directly address these issues. My initial work on this was published online as an
Interested Parties Memo
:
CCCApply and OpenCCC Issues and Opportunities
and also as a
PDF
.